Record Performance by Kingspan Group
Kingspan Group, the County Cavan-based global leader in high performance insulation and building envelope solutions, has reported a 12% increase in revenue to €2.2 billion (pre-currency up 11%) and an 18% rise in trading profit to €230.4 million (pre-currency up 17%) for the six-month period ended 30 June 2019. Group trading margin at 10.3% advanced by 60 bps versus the same period in 2018. Acquisitions contributed 8% to sales growth and 8% to trading profit growth in the period. Total investment in the period was €74.5 million predominantly comprising expenditure around capacity expansion.
Group trading was generally positive across most of Continental Europe, with the exception of Germany which was a little weaker. The UK performed robustly for Kingspan Group although weakness can be expected in the near-term, and activity in the Americas was encouraging once again as penetration growth continues in North America with solid organic expansion in Latin America.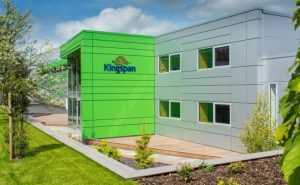 By product group, Insulated Panels global sales were ahead by 14% and QuadCore™ volume was up 42% from the same period last year. Insulation Boards volumes were significantly ahead as advanced insulation continued to regain share from traditional fibrous materials following a temporary interruption due to raw material volatility in 2017 and early 2018. Light & Air achieved growth of 11% and was particularly strong in North America. Underlying Water & Energy revenue was broadly flat, hampered partly by softer demand for residential rainwater systems in Australia. Data & Flooring had a strong outcome driven by continued progress in Kingspan Group's data solutions in both the Americas and Europe.
Gene Murtagh, Chief Executive of Kingspan, commented: "We have delivered a record first half with revenue growth in all our business units and a strong trading profit performance. We continue to expand our global production footprint with new facilities under construction in the US, Brazil and Sweden. The near-term outlook is solid although the political uncertainty in the UK, weakness in sterling, and weaker German economy are amongst risks we are monitoring closely."
Kingspan Group has also announced a series of sustainability targets under its Planet Passionate Programme, which builds on the Net Zero Energy journey started in 2011. "Seismic transformations are required to address the growing issue of climate change, and we are committed to delivering on the challenging targets we have set ourselves," Gene Murtagh added.