Resilient Performance by Breedon Group
Breedon Group, a leading construction materials group in the UK and Ireland, has reported revenue of £378.4 million for the six months to 30 June 2018, up from £326.3 million in the corresponding period of 2017. Underlying earnings before interest and tax (EBIT) increased by 17% to £42.0 million. However, excluding acquisitions, both revenue and EBIT are marginally down against the prior year.
The underlying EBIT margin, Bredon Group's principal performance measure, was maintained at 11.1% in spite of steadily increasing input costs. As in the prior year, the half-year margin is impacted by the phasing of planned cement kiln shutdowns. Whilst the acquisition of Lagan Group will as expected have a dilutive effect in the short term, the group continues to target a 15% underlying EBIT margin.
Peter Tom CBE, Executive Chairman, commented: "This was one of the busiest periods in the group's history, with four acquisitions completed by 1 July including our first outside Great Britain, coupled with continued organic investment in a number of key projects. We had anticipated a challenging 2018 and so it proved in the first half, with testing trading conditions exacerbated by the severe weather in the first quarter and rising input costs throughout the period.  Despite these headwinds, we delivered a resilient performance."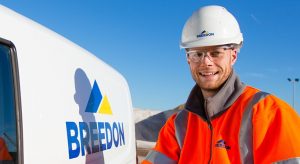 Breedon Group completed the £455 million acquisition of Lagan Group on 20 April. Lagan Group provides immediate scale in a new and growing market outside Great Britain, with a new modern cement plant and complementary downstream businesses with strong development potential. The attractions of the acquisition were underlined by Lagan Group's performance in the first 10 weeks under new ownership, which exceeded expectations, as it benefited from more favourable trading conditions, particularly in the Republic of Ireland (RoI).
The integration of the business commenced promptly after completion and is progressing well, with encouraging evidence of its future prospects. Breedon Group remains confident of delivering the full £5 million of synergies by the third year.
Peter Tom CBE continued: "We did much in the first six months of this year to rebalance the group, both geographically and operationally. Our new businesses in Ireland provide a valuable economic counterpoint to the continuing short-term challenges of our markets in GB and our asset swap with Tarmac has expanded our aggregates base and further reduced our reliance on the ready-mixed concrete market, thereby improving the quality of our earnings."
He elaborated: "We continue to view the medium- to long-term outlook in GB positively, with infrastructure spending forecast to increase steadily over the next three years and Government strategies to address our chronic housing shortage expected to fuel continued growth in the residential sector. Market conditions in Ireland are expected to be even healthier, with construction output in the Republic of Ireland forecast to grow by approximately 28 per cent in the three years to 2020 and NI expected to sustain construction output at approximately £3 billion per annum from 2018 to 2022. In the more immediate term, taking into account our more balanced geographical exposure, we remain comfortable with current market expectations for 2018."
Breedon Group currently operates two cement plants, around 80 quarries, 40 asphalt plants, 170 ready-mixed concrete and mortar plants, nine concrete and clay products plants, four contract surfacing businesses, six import/export terminals and two slate production facilities. The group employs nearly 3,000 people and has nearly 900 million tonnes of mineral reserves and resources. The group's strategy is to continue growing organically and through the acquisition of businesses in the heavyside construction materials market.