New Opportunities For Construction Companies as Dublin Airport Invests Over €1 Billion in Capacity Expansion
Having welcomed 31.5 million passengers during 2018 – a new record – Dublin Airport is currently being expanded to ultimately cater for more than 20 million additional passengers.
"We are building an airport to accommodate 55 million passengers a year," pointed out Brian Collier (pictured above), Head of Construction Procurement at daa (Dublin Airport Authority), when speaking at the recent 2019 National Construction Summit, which was held at the Citywest Convention Centre in Dublin. Over the next five years, capacity will be extended to 40 million passengers as daa invests over €1 billion in its expansion programme. This excludes the €320 million North Runway project that recently commenced, which is a joint venture between Irish construction company Roadbridge and the Spanish infrastructure group FCC Construccion (FCC).
Brian Collier has worked at Dublin Airport for almost 30 years, over 20 years of which has been in procurement. In that time, he has delivered in excess of €2 billion worth of construction projects, including Terminal 2.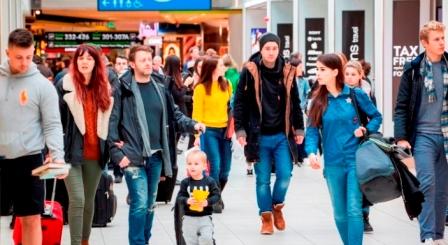 His presentation – 'Dublin Airport Capital Investment Plan 2020+' – highlighted the various opportunities available to construction contractors and associated consultancies and suppliers at Dublin Airport over the next several years. The capacity expansion programme, involving about 100 projects, is predominantly based around Terminal 1, Terminal 2 and the airfield. It includes a €900 million investment in new boarding gate areas, aircraft parking stands and other improvements alongside about €200 million worth of airfield works and a €120 million annual spend on repair and maintenance and revenue generating projects.
Opportunities are available for the following sectors:
* Civil contractors;
* Building contractors;
* Mechanical contractors;
* Electrical contractors;
* Architectural design;
* Engineering design;
* Structural design;
* Project management services;
* Cost management services.
"We need to be more flexible on procurement and are taking a much more partnership-based approach," Brian Collier said. Daa is using eTenders, the Irish Government's electronic tendering platform administered by the Office of Government Procurement. The daa website is also being updated to show details of all opportunities during the coming months.
In addition to the operation and management of Dublin and Cork Airports, daa's other activities include global airport retailing and international aviation consultancy. The group generated a turnover of €855 million and profit after tax, excluding exceptional items, of €125 million in 2017.